My Story:
Benji Supports Rare Disease Day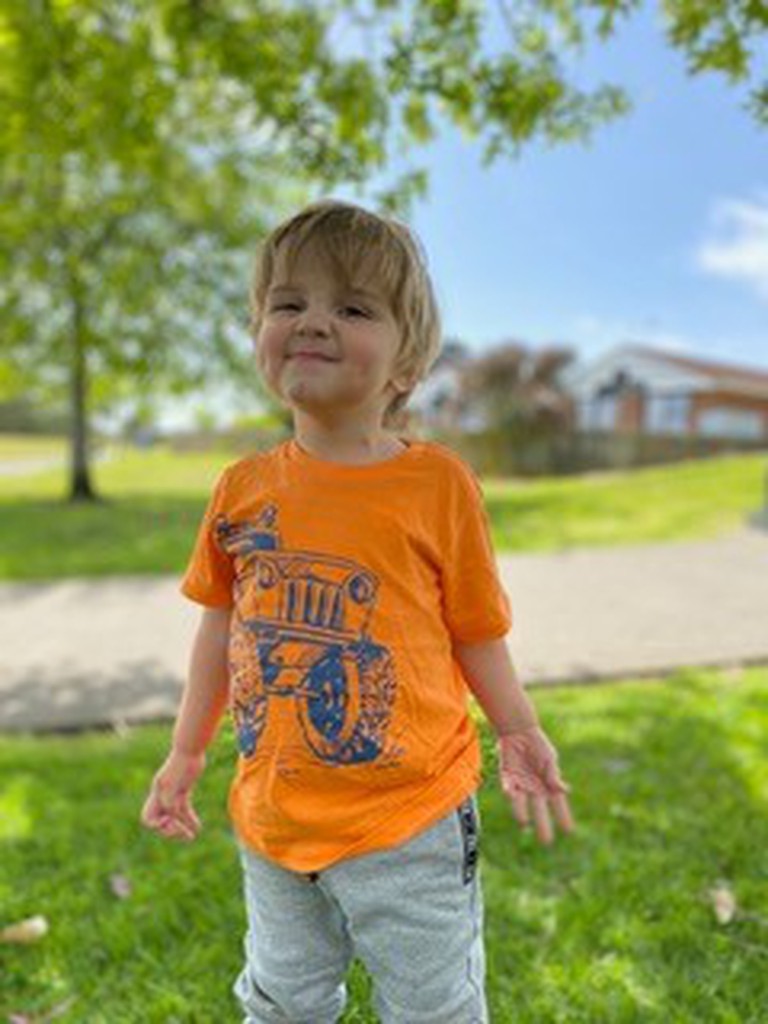 Meet Brave Benji Playne who is putting both hands up to support Rare Disease Day - Benji was diagnosed with a severe rare disease affecting only 1 in 5000 individuals of European descent: Alpha1 Antitrypsin Deficiency .




Here is his story as told by his mum Ashleigh.





Benjamin Playne - Alpha1 Antitrypsin Deficiency and Liver Transplant Story

On 18th August 2017 Benji was born weighing just over 3kg, full term and seemingly perfectly healthy. When he was two weeks old, I noticed that his stools were lighter than normal. After a day or so, his stools were clay coloured so I decided to ring our midwife and later that day we had an appointment with our GP who ordered urgent blood tests. Things escalated quickly when, that evening, our GP rang and said we were to go straight to Starship and that they were expecting us.

Once at Starship everything happened very fast as tests were ordered, blood draws completed, and we met with numerous doctors and nurses on our first admission to Ward 26B. Several different conditions were being mentioned, all with one common factor, Liver Disease. Many of the conditions were ruled out so, after a couple of days, we were able to go home and wait for genetic testing results. The following week we were told that Benji had Alpha1 Antitrypsin Deficiency. Alpha1 Antitrypsin is a protein that our liver produces which protects cells, particularly in the lungs, from damage. With Alpha1 Antitrypsin Deficiency this protein is abnormal and gets stuck within the liver, which in Benji's case was the cause of his liver disease. We were told that the liver function tests would fluctuate over time but that everything should stabilise and he would be unlikely to have any significant issues as
a child and young adult. Around 5% of people with Alpha1 develop chronic liver disease and an even smaller percent need a transplant. It was essential that he didn't smoke when he was older and that we reduced his exposure to airborne toxins, but otherwise we were to go about living our life with a newborn.
As the weeks went by his LFTs were getting worse, he was becoming jaundiced, itchy and failing to thrive. The little sparkle in his eyes started to fade but even though he was looking sicker each day somehow he managed to smile through everything, which was such a blessing. At three months old he stopped feeding completely which was our introduction to tube feeding via an NG tube. As we trialled different formulas, and combinations of medication we could not get Benji's weight or blood tests to improve. That's when the talk of transplant began. The decision was made December 28th 2017 that he would need to be listed for a liver transplant. We had no other options. The transplant assessment was set to happen in the first few weeks of January 2018.
January 2018 the liver transplant assessment week was all booked. We had read through the documents, come up to speed with liver disease, Alpha 1 and liver transplants. We had our questions ready and were set to take on this next challenge. The two weeks leading up to assessment, Benji's bloods had miraculously improved. The jaundice was fading, his feeding had improved and he was looking better each day. The Friday before assessment week the team decided to postpone listing Benji as he had improved so much, cleared his jaundice and was no longer in urgent need of a transplant. He did have cirrhosis and liver disease but you can live a long time without any intervention. The chance of him deteriorating again was very slim, and we could once again go back to leading a normal life, with a healthy, happy, symptom-free infant. Or so we thought…
In February 2018 Benji developed chronic intestinal issues, while seemed to be unrelated to his liver disease at the time; no one could figure out why he was having so much trouble with nutrition and absorption. After weeks went by with no answers or solutions Benji needed TPN (Total Parenteral Nutrition) - a way of feeding him and giving him nutrients through his veins while allowing his gut to rest. His liver numbers, while still elevated, were far from the extreme they were when he was a newborn. It was then that we discovered that Benji was also struggling with hypoglycaemia, a word which still has the ability to keep me up at night.
Throughout 2018 Benji had episodes of chronic tummy issues which resulted in many admissions to Starship requiring either IV fluids or TPN. We were aware of his tendency to have low blood sugars and were able to manage it at home with a glucose monitor and medication for hypos. For the most part, he was okay. We celebrated all the normal infant milestones, watched him grow and develop, and battled with the NG tube which he refused to keep in for longer than two days at a time. As the year went on it seemed as though his hypoglycaemia was getting worse. I was picking up a symptomatic low blood sugar every few weeks. He was referred to other medical teams in Starship for further investigation where nothing out of the ordinary was found. Chances are, it would come right. You can probably guess where this is going.
Fast-forward to April 2019, Benji's hypoglycaemia had become uncontrollable. There were countless ambulance rides, ED visits and hospital admissions. As time went on it was becoming clear that his liver may be playing a part in his issues. The teams of doctors were trying to find a reason for his severe hypoglycaemia. Some were saying it had to be his liver, others were saying it wasn't the cause. His liver function was declining but not at a rate to match his symptoms. While clinically he was stable, our days were consumed with checking his sugars, getting him to eat, NG replacements, home care visits, and many phone calls to the wonderful liver nurse specialists.
In May 2019 Benji was scheduled to have a Mickey button placed, which would dramatically improve his quality of life. On the day of discharge after surgery his intestinal issues had started again. After being home for a few hours it had become uncontrollable, sending us straight back for an admission. This was the beginning of the sharp decline in Benji's health. His gut had completely shut down. He wasn't absorbing anything orally or via the tube which triggered severe hypoglycaemic episodes. As the weeks went on Benji was unable to go longer than an hour between some form of nutrition. He required different types of nutrition to keep his glucose levels stable. This eventually stopped working and Benji had a severe low blood sugar resulting in the decision to place him on 24/7 TPN to keep him stable. His liver function tests were still declining and the decision was made by our liver team to list him
for a transplant. I can remember feeling so overwhelmed when transplant was discussed again. Not knowing if it would work was so terrifying. We had been living in Starship for months by this stage. We had no other option and we had to have faith that he would be healed.
My husband Matt was tested to be a live donor. After a few weeks of testing it was confirmed that he was a match, and that a transplant date had been set for the 24th of September 2019. Our family and friends all gathered together as we faced the biggest challenge yet. Matt went into theatre first, followed by Benji a few hours later. After an anxious wait we got the call to say everything had gone well. Matt's section of liver was a perfect match and Benji had no hypoglycaemia. We got to see Matt in recovery and then Benji a few hours later in PICU. Seeing Benji for the first time was not as scary as I thought it would be. Sure there were lots of wires and machines, and the giant scar across his belly, but Benji's liver function tests were the best they had ever been and for the first time in a very long time, he had nothing running through his system to maintain his sugars artificially. His little body, and new
liver from his dad, was finally working. Miraculously Benji bounced back much faster than anyone anticipated. He was sitting up and wanting to get out of bed within a few days and was jumping round and sliding off the bed by the end of the first week. Benji broke the record with fastest discharge, as we were able to go home nine days post op. Our lives were immediately changed, and while it was a new challenge learning the post-transplant routines, it was much easier than what we had been dealing with pre-transplant. He had an episode of rejection at the beginning, but has now stabilised and is doing incredibly well. We only now realise just how sick he was and we had no idea just how good life could be, something we will never take for granted.
Benji's symptoms did not line up with his diagnosis of Alpha 1 Antitryspin Deficiency. It was incredibly rare for a child to present in the way that he did. While no other diagnosis has been found, there is an assumption that there must be another contributing factor for how he was affected. The team hadn't seen a case like him before and he continues to surprise them with his journey. He is now doing incredibly well and we now only need to go to clinic every three weeks. He is no longer tube fed, he eats and drinks orally, has no wires or tubes and most importantly isn't needing his glucose levels checked every few hours. Our life has turned completely upside down yet again, but this time for the better. We are finally able to enjoy life and do normal things like going to the park, seeing friends and family and going to the beach without fearing what the next day holds. For the first time ever in Benji's
life, his liver function tests are all within range. Our journey is far from over, but at least for now it's stable and we can celebrate health and life.
The team at Starship and IDFNZ have been amazing. This journey is hard, and scary and very overwhelming. We are so lucky to have an incredible team around us and supporting us through this season. They have been with us through the ups and downs, and celebrated the highs and grieved with us during the lows. We could not have done this without them and will be forever grateful for them and the medical system here in New Zealand. It has also been incredible to connect with other Starship families, and parents from around the world who have similar stories to us. You have all become family and I thank you from the bottom of my heart.