My Story:
Mere
From Bay of Plenty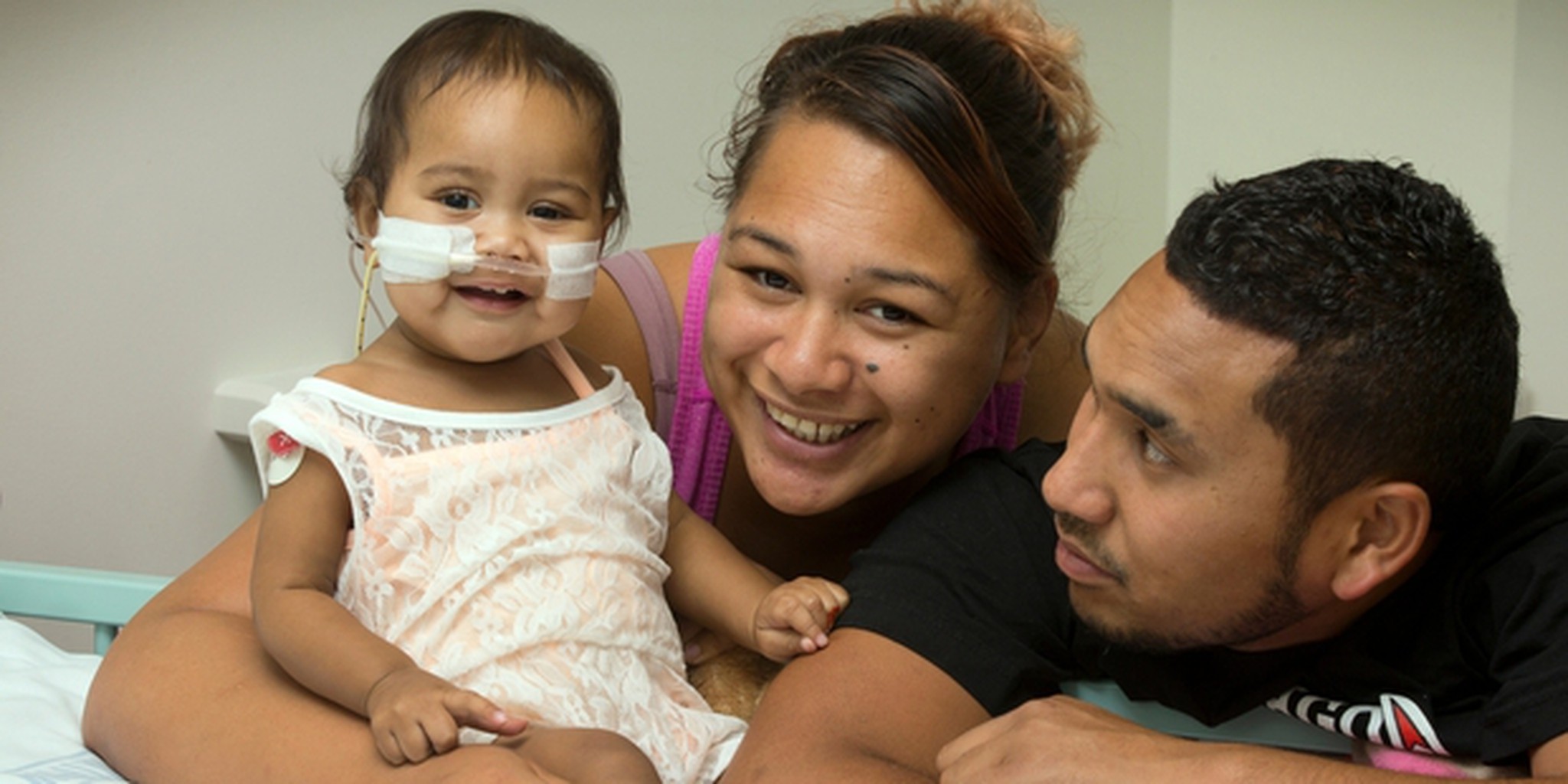 Mere -Takutai : February 22nd 2013 - July 6th 2014.
We are very saddened to farewell Mere - Takutai , she fought so hard to battle Biliary Atresia over the last 12 months, she was very brave indeed.She brought much joy to everyone around her when her face light up with her amazing smiles, even going through as much pain as she did.

Now peacefully at rest, our thoughts are with her family as they deal with her loss. Mere - Takutai will never be forgotten , her memory will live forever in our hearts.
Throughout the last year her parents Tessa and John were committed to warning others of the hidden danger of jaundice they still feel strongly that this message should reach all parents of newborn babies.
Mere- Takutai - My Story

Late diagnosis of baby's illness meant two transplants. - NZ Herald Story February 29th 2014

One-year-old Mere-Takutai Pomana, with her parents Tessa Thornton and John Pomana at the Starship hospital. Photo / Brett Phibbs
When Mere-Takutai Pomana was born four weeks premature, her mother, Tessa Thornton, noticed the newborn had a distended tummy and a slight yellowish tinge to her skin.
There were other signs something was not quite right but it was not until Mere was 3 months old that she became obviously jaundiced.
It was the first hint of what was to come; surgery for liver disease and two liver transplants including complications which almost claimed the little girl's life.
But as the first Beware Yellow campaign aimed at raising awareness of liver disease in children is launched today to coincide with World Rare Disease Day, Mere is beginning a long recovery with her new liver.
The "survivor" might have been spared her ordeal if doctors picked up the disease, biliary atresia, earlier.
Miss Thornton took her 13-week-old daughter to the doctor three times before tests finally showed a dangerously high bilirubin count of 147 - a normal count in babies is 20.
Bilirubin is a body waste product processed by the liver which drains through bile ducts to the gut where it is ingested.
But as Miss Thornton and Mere's father, John Pomana, would find out, Mere's bile ducts were damaged because of the liver disease. It takes a special blood test of liver enzymes to detect the disorder and if caught early surgery is highly successful.
Mere was admitted to the Starship children's hospital in Auckland last June to undergo the Kasai surgery where part of the intestine is connected directly to the liver to drain the bile. By then she was 4 months old and the operation - which works best on babies under 2 months - was unsuccessful. Her liver began to fail and in July the family were told Mere would need a liver transplant, which she underwent last month.
Two days later, on January 17, the donated liver began failing.
Mere underwent a second transplant the next day but a week later she suffered an aortic rupture and her heart stopped for 30 minutes. Doctors warned she could die, be brain damaged or face dialysis but she has since recovered enough to move to a ward and eat her first solids.
Miss Thornton said the family were speaking out to warn other parents that liver disease could be mistaken for normal jaundice.
"You have to be careful because not all doctors or Plunket nurses know exactly what [biliary atresia] is. Fight for blood tests and do something about it as soon as possible."
Starship hospital head of paediatric gastroenterology Dr Helen Evans said the difficulty in raising awareness was that normal jaundice was common in newborns who did not have liver problems. "So the question is how do you identify the ones that have liver disease?"

Symptoms include if the baby is still jaundiced after two weeks, if their poo is pale in colour and their urine is dark, or if the jaundice appeared in the first 24 hours of life.Dr Evans is researching with Otago University why New Zealand has double Europe's rate of biliary atresia and why the sick babies are not getting to hospital as soon as in other countries.
Unfortunately Mere faced many additional struggles post transplant , being in hospital for a further 4 months following the Herald article. Her wee body finally gave up and she passed away Sunday 6th July.