My Story:
Lillee
From Palmerston North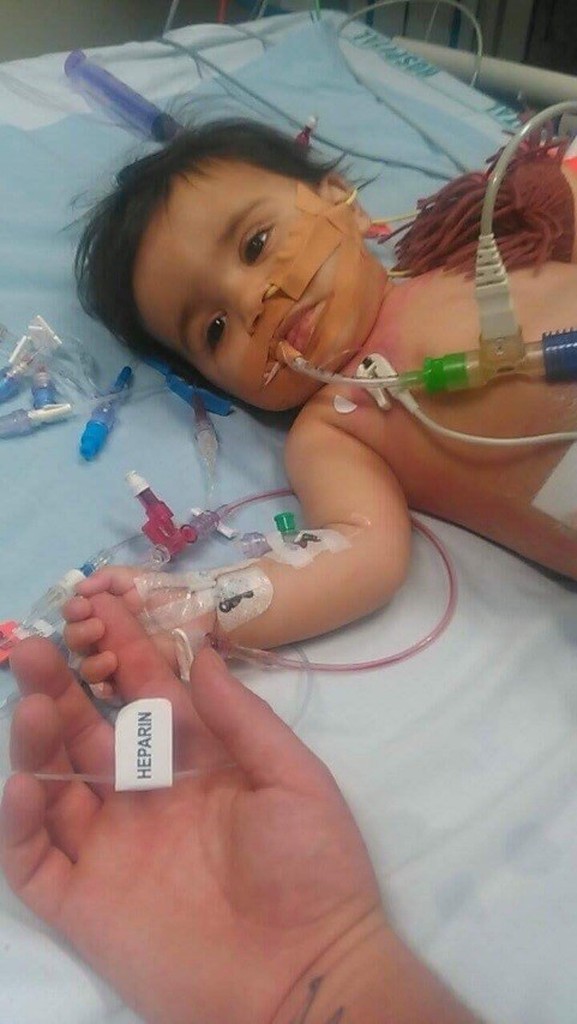 Lillee - Palmerston North
More at home in the outdoors with the cows and other animals on her family's farm, Lillee is a strong little fighter who has experienced a lot of pain and conquered a lot of illness despite her young age.
At just six-weeks-old, her parents raised their concerns about her jaundice at her 6-week jabs. The term Biliary Atresia was first mentioned then, and the family was transferred from Palmerston North Hospital to Starship for further testing. There she received a Kasai when she was 9-weeks-old. The procedure went well, her liver numbers returned to normal range, and the family was able to return home. Unfortunately, Lillee developed portal hypertension – an increase in the blood pressure within the portal venous system (veins which merge together from the stomach, intestine, spleen, and pancreas).
Although her organs and body were struggling, Lillee didn't seem to show she was sick. Apart from jaundice before her Kasai, she really didn't show any symptoms of being very unwell. After doing some work on her veins to keep the pressure within a normal range, Lillee was sent home under the watchful eyes of her parents. By December of 2016, at eight months old, Lillee was listed for a liver transplant. Understandably, her parents had mixed feelings about it but knew that it was what Lillee needed to survive. Then, on the 5th of March they received a call that a liver had become available and was a perfect match for Lillee. With very little time they packed up and flew to Auckland, racing to Starship. At 10:30 that Monday morning, Lillee was wheeled into an operating theatre.
After a long wait and lengthy operation, Lillee finally had the new liver that would save her life. She spent two days in intensive care, and then two months later and with only one episode of rejection, Lillee was home.
Lillee had been doing extremely well. Her family are thankful that she has manged to have such a stable recovery. However, only recently have they been in and out of hospital with Lillee who has been fighting fevers on and off.
Lillee has her one-year post-transplant anniversary on the 6th of March this year and has been doing amazingly despite what she has been through. Her mum says she just gets up and gets on with life. They are now in the Ronald McDonald house in Starship helping Lillee get over her fevers, so they can get back to their farm and Lillee's beloved animals. Her family's hopes are for her to lead a healthy, happy life from now on and to be home enjoying the outdoors. She loves to draw and colour and watch the Wiggles and with the support and love of her family she will be back to her normal life in no time.
Her family don't want her to feel as if she has to hold back and help her live her life to the fullest. They are grateful to KIDS Foundation and all the support they have given over the time Lillee has been sick, and also say that reading the stories of others who have endured what Lillee has gone through are an inspiration. Lillee's mum has also set up a Facebook page for Lillee to inspire others on their road to transplant or recovery (Lillee's journey the road of a liver transplant).
Lillee's mum says that for those that are going through similar things that the key is to keep positive and believe that things will get better.
Update
Lillee is well, she is coming up 5 years post transplant and she has had only two admissions over the past 2.5 years and its more for adjusting and monitoring her medication. Life is relatively normal for Lillee. She takes her one pill morning and night which helps as she doesn't have a hefty list of medication. Lillee enjoys riding her pony Stormy, playing with her calf Sophie, Walking the dogs and playing with her barbies.
Lillee turns 6 in April she's a bright bubbly happy girl, she absolutely loves and adores her younger brother Carter. She is looking forward to her camping trip this summer :)
Letitia Bonnor, 2022