My Story:
Lara
From Auckland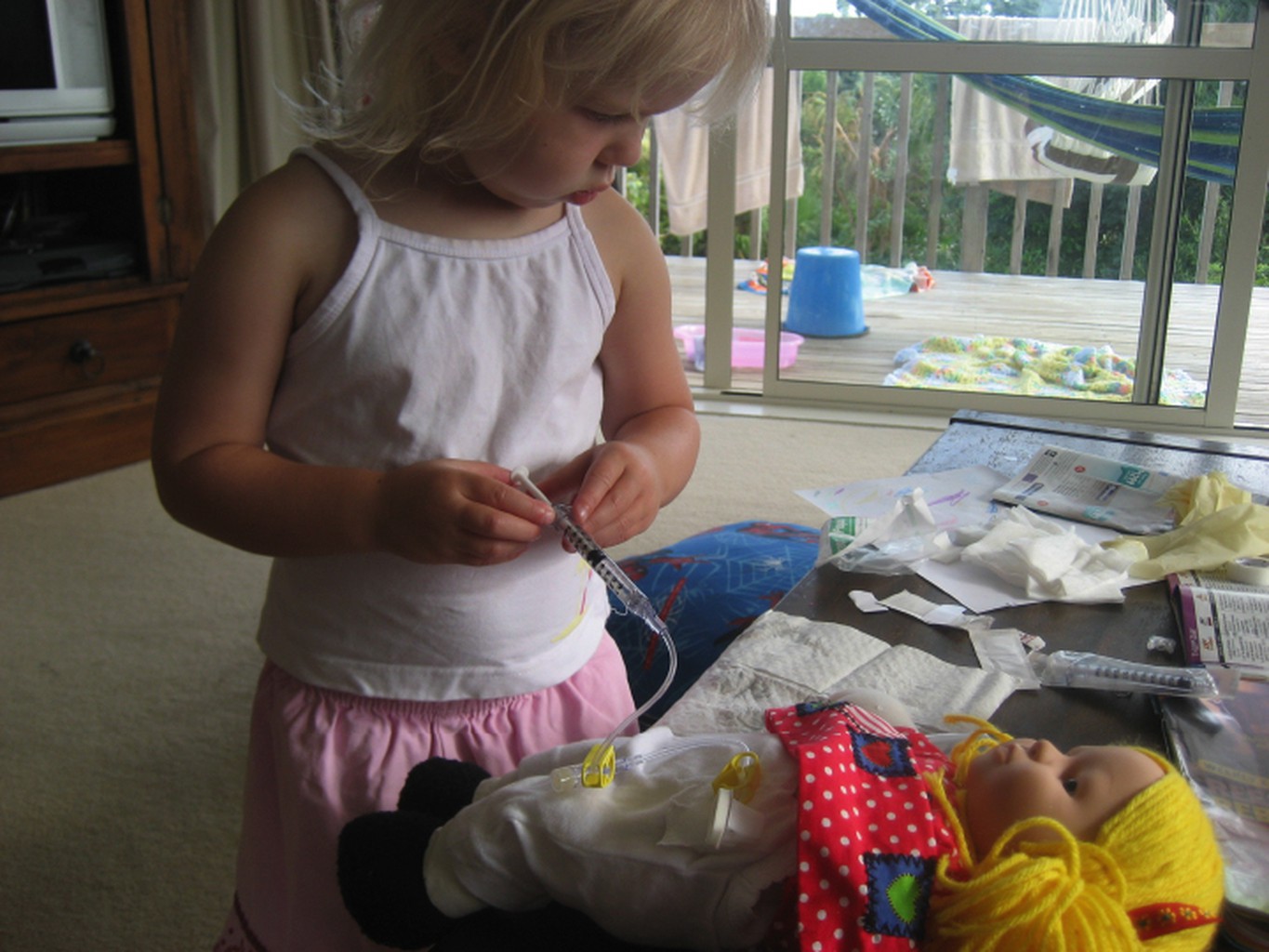 Lara's story to date, captured by her mum Samantha.
Our beautiful second child Lara was born on the 17th September 2006. She had jaundice from early on but it wasn't until her 6 week check with our Plunket nurse that any concern was raised (because she also had pale stools as well as the jaundice.) Lara had blood tests and we were immediately told to go to the hospital for further tests as her conjugated bilirubin levels were high. I mistakenly thought we were just going to have Lara under the special lights for jaundice treatment ... but our story had just begun.

We were admitted to Kidz First Children's Hospital at Middlemore right away for lots more tests and an ultrasound scan, then referred to Starship Childrens Hospital, Auckland for yet more tests and finally, a liver biopsy.

The biopsy confirmed Lara had Biliary Atresia, a condition where she had no bile ducts to drain the bile from the liver. The bile is essential to break down fats and proteins in your food so it can be absorbed into the body. The bile build up is also what makes the skin yellow. Without bile ducts draining the bile it builds up in the liver causing scarring and eventually cirrhosis.

She was booked for the 'Kasai' surgery at exactly 8 weeks old. They took part of her intestine (45cm) and attach it directly to the liver (after cutting away some of her liver which was damaged). Lara spent 3 weeks recovering in hospital. The kasai is not a cure, merely a stop-gap to enable Lara to grow and undergo transplant at a later date.

We came home for two weeks and then Lara was readmitted with suspected cholangitis, an inflammation of the liver where the new part was attached. While in hospital she also caught rotovirus, a common hospital bug. This meant both she and Hamish were isolated in hospital and didn't make it home for her first Christmas. Hamish spent his 3 week Christmas break in hospital caring for Lara while I looked after Jake at home while recovering from the acute stress I developed when we came home after the operation. Her liver was hard which means scarring and her liver function tests were on the high side. So we played a waiting game, keeping Lara well and growing and healthy. This proved to be difficult, and Lara was in and out of hospital frequently.

Lara was admitted in Feb 2007 (age 5 months) for pre-transplant tests, including MRI, heart xray and scan, endoscopy and blood tests. She was listed immediately for a new liver. It was very uncertain whether a deceased donor would come up due to our shortage of donors in New Zealand so her daddy Hamish was tested to be her live liver donor. Many amazing people came forward to offer to be Lara's live donor. They were all compatable with her blood group and the doctors chose to start testing with her father.

In March 2007 Lara was readmitted with a high temperature and we realised she would not be allowed home before transplant due to her fragile condition. She received infusions of albumin and blood products regularly to keep her stable but her condition was very serious. We felt an urgent need to find a donor as we could feel her slipping away from us swiftly. We believe, at the time of her transplant Lara had only a couple of weeks left.

Then in April a miracle happened. On the 18th April 2007, just a day after we found out Hamish was unable to be Lara's donor (due to a genetic disorder haemochromatosis), a liver came up from a deceased donor. We feel so lucky and privileged to have been given this gift of life for our daughter. The op went well but was long (12 hours) and the new liver took two hours to restart. After quite a few hiccups in her recovery, including pneumonia, Lara returned home (briefly!) on her daddy's 40th birthday, May 18th. Yes, we have been frequent visitors to Hotel Starship in the years since transplant as Lara has had many ups and downs with her recovery. She has had stents in her bile ducts to keep them open, biliary reconstruction surgery and numerous t-t ube changes, blood tests, liver biopsies and tests.

How do I begin to thank the donor family - words do not seem enough. I hope that knowing Lara has a part of your loved one living on inside her and giving her life, gives you some comfort. We are incredibly grateful to our doctors and nurses at Starship and to the Kids Foundation for their ongoing support which helps us survive the financial costs of being a hospital family and also provides our kids with fun outings and Christmas treats.