My Story:
Hugo
From Christchurch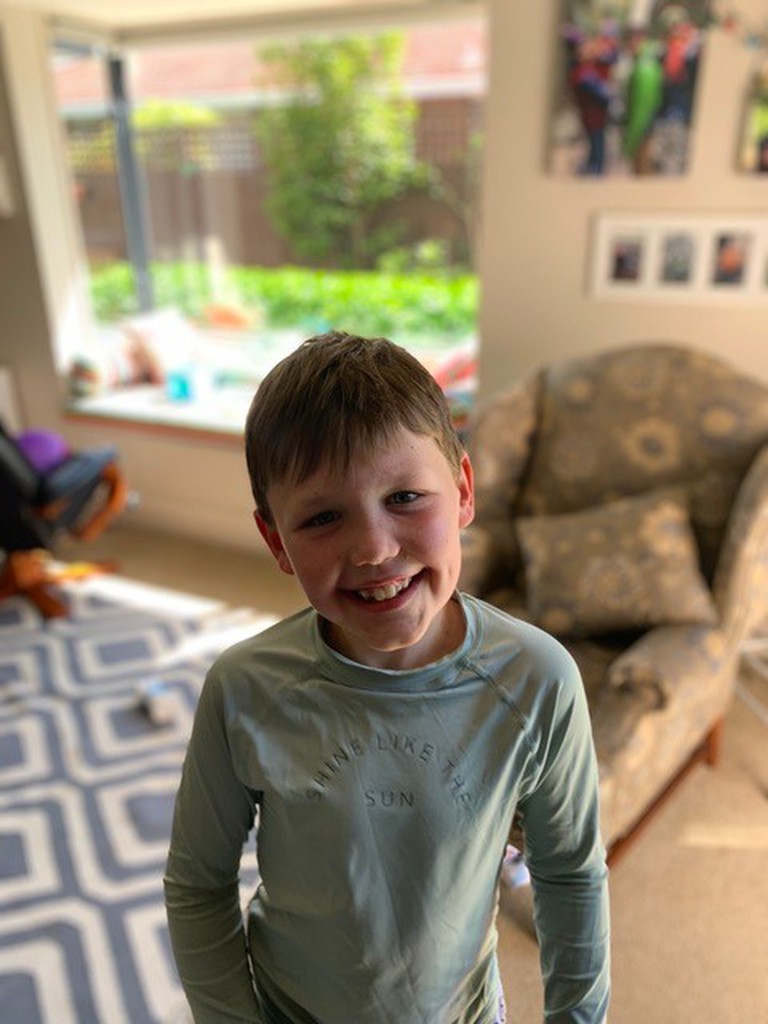 Hugo James, born 26th September 2012. Diagnosed at 6 weeks with Biliary Atresia. A rare liver disease in which the bile duct does not form properly therefore not allowing bile to drain from the liver. At 6 weeks of age Hugo took his first flight to Starship hospital where he underwent his first major surgery, the Kasai. The surgery involves the intestine being connected to the liver in the hope it will begin to drain the bile.
At 3 months of age we flew back to Christchurch and began our friendship with the team at Christchurch Hospital. Still in contact with Starship, we were privileged to be under the care of Andrew Day and the Outreach Nurses close to our home. Equipped with a large bag of daily medication, weekly appointments and blood tests, we began our roller coaster ride.
Hugo's Kasai lasted until 13 months of age, he was unable to thrive due to the buildup of bile lakes within the liver. After numerous stays in hospital due to infection and the onset of portal vein thrombosis he was on the waiting list for a liver transplant.
Hugo's Dad, Matthew, was compatible to provide a portion of his liver for Hugo, however the upsetting news was that his liver was too big. It was 4 months from that day when we got the phone call, a deceased donor liver was available. Hugo and Matthew left the next morning on the 5.40am flight, transplant surgery would be at 10am that morning.
It's crazy when I look back on things now, Hugo's little brother Jakub was only 7 days old. I remember feeding him and the exact time when the phone rang. It was both the most terrifying and exciting moment of our lives. Knowing the part inside Hugo that was filling with toxins and making Hugo so unwell would finally be removed was an incredible relief. It was this moment that things went from what was to what is.
It hasn't been easy riding this roller coaster, but I am incredibly proud of Hugo and how our family has dealt with this. Nothing about his experiences frighten him. As parents we have worked incredibly hard to place those emotions in a box for later, I am especially proud of our game faces. This has always been about getting Hugo through this journey. I get reminded of those frightening emotions most days but I'm getting better at dealing with them. Four years on they aren't as intense, but they never go away. As I watch Hugo take on life as a 6-year-old he's not different from any other child. The only visible difference is his amazing mark on his body, it reminds me each day how far he has come and how far we have all come.
I took a photo of Hugo the other day, he was riding his bike and laughing at his little sister as she peddled furiously on her 3-wheeler. I posted the picture to a family member, she said if there was one photo that we needed to have seen while Hugo was going through transplant this was it. For a time after transplant Hugo had a PTC tube. He couldn't swim, ride a bike or even take a bath. Everything he did had to be monitored in fear of the tube catching on something, the risk of infection or causing further damage. He was 16 months old when he had his transplant, he was 3 years old when his tube came out and 2 months later he started kindy. Hugo's just turned 6. He lost his two front teeth last week. He swims and plays football once a week. He cycles to school most days and he's just started to learn the Ukulele. He is in a drama club, they performed Rumpelstiltskin last term, he got best stage presence. He wants to try everything. He loves school and he cares about his friends and his teachers. He tests us all the time and most days he gets a telling off for not listening, but he has incredible empathy for others, his kindy teacher described him as stoic. He lights up a room with his smile and he is proud of his special mark on his tummy. He knows lots of people worked incredibly hard to make him better. He knows a part inside him was making him sick and had to be taken out. He knows his tummy is special and he needs to look after it.
I never imagined this would be us. At the start a part of me never wanted to accept it. But I look at where we have come and where we are now, and it fills me with so much love. I am so grateful of the amazing people that have been with us on this journey. At the beginning I could never see myself celebrating a bumpy roller coaster ride that would every now and then fall off the rails. I look back now and realise that there were always people there to catch us, always people standing by that brought calmness and support. It wasn't just the people in the hospital either, it was staying at the Ronald McDonald house and the people that stayed there and that work there. It was the KIDS Foundation and Janet with their continual generosity and even now 4 years on and never forgetting us.
As a family we will be eternally grateful to the people who have been and of those that continue to be on our journey. It may have just been sharing the silent understanding of another parent on the ward, a regular early morning coffee group with mums in the RMH, a chat while I made up formula in the kitchen, a cry to a nurse, the date scones from the wonderful lady from the cafe across from the hospital, a cup of tea with a friend and most importantly to the mum whom I met during our first week at Starship, I will never forget her words. She told me, acceptance is everything. Once you accept what is, then life doesn't seem so impossible, in fact it makes things all the more possible. This is our story, and this is our normal. When I look at that photo of Hugo on his scooter, it makes me think our normal is a pretty good place to be right now.
By Lucy Ellery, IDFNZ 'In Touch" 2019
Update
Its hard to believe it has been 7 years since Hugo's transplant. Hugo is 9 years old. He plays basketball, he runs, bikes and swims. Hugo loves school and is looking forward to being in Year 5 where he goes on camp for the first time. We have regular clinics with the team in Christchurch and our regular blood tests which Hugo does with ease and always a smile.
There are always a few bumps along the way, but because he has the best care his bumps always need double checking. I remember saying 7 years ago i just wanted a snapshot of what the future would look like, well this is our snap shot and its exactly what we would want! 
Lucy Ellery, 2022