My Story:
Elliott
From Southland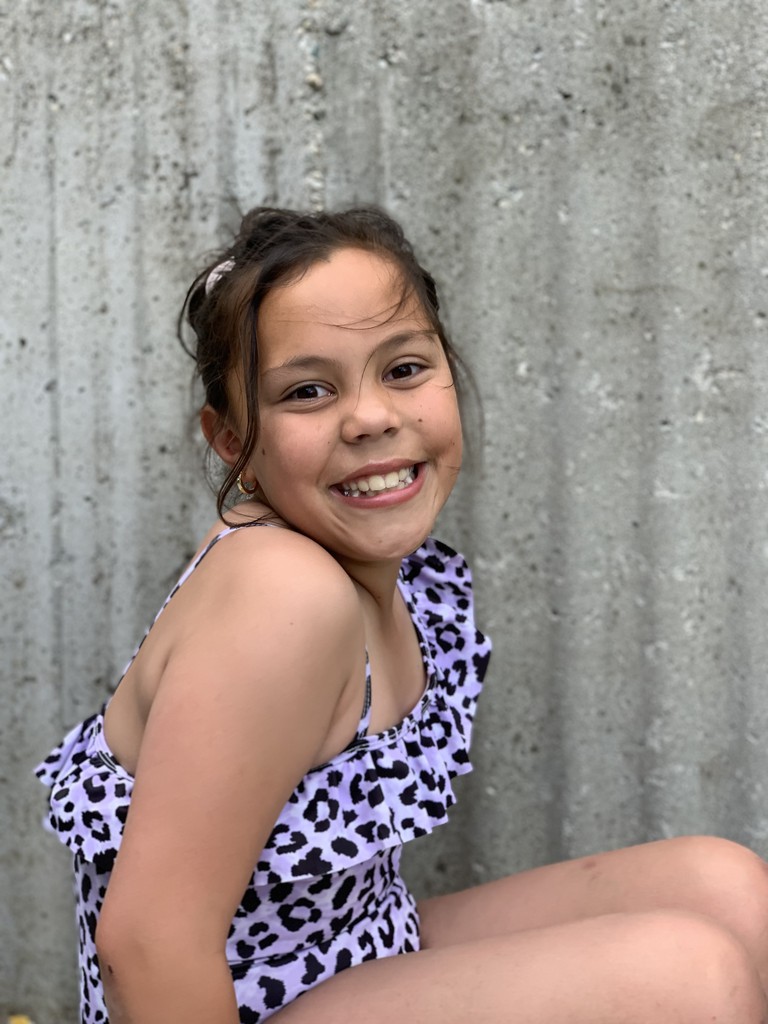 A second Chance at life – Elliott's Story told by Mum Rebekah
Just when the caterpillar thought the world was over, it became a butterfly - Proverb
Butterflies are God's proof that we can have a second chance at life. A very special donor family gave Elliott her precious butterfly wings. We give thanks every single day. The most precious of gifts was given to us by a stranger we will never know. Our little caterpillar became so sick that she was listed for transplant, a liver was all that could save her. For eight months she stayed in her chrysalis waiting for her wings, for a new chance at life. And finally, her day came! Slowly, day by day, she unfolded her wings and grew stronger. Today she is a beautiful butterfly, fragile and precious. She is a reminder for many people, to cherish each day and to be grateful for the simple things in life. She will forever need special care but we were the fortunate ones who eventually left hospital and returned home. Our thoughts are with all the families who went home from hospital with their babies in their hearts and not in their arms. God chose to give them angel wings instead.
That post was written on June 16th 2013. We were finally allowed to take our baby Elliott home after spending 173 nights in hospital or at Ronald McDonald House. She hadn't even made it to her first birthday yet. Let me tell you a story from a mother's perspective, about a life changing moment and the journey it took us on. My hope is that after reading this, you will consider having the conversation with your loved ones about organ donation.
Elliott's Dad and I waited in the Paediatric Assessment Unit of Southland Hospital with our beautiful baby girl, who was just 5 weeks old. We'd had a party the previous weekend to celebrate her being with us for one month. We were surrounded by family and friends, enjoying the opportunity to gather and celebrate new life. Two of Elliott's aunties mentioned how pale her stools were when her nappy was being changed. That led us to the moment where we had been referred to a paediatrician, who after a few hours and blood tests said we needed to sit down. it was serious. Nothing can prepare you for the moment a doctor tells you your baby has a rare and life threatening disease. It is hard to find the words to describe what went through my mind. I looked down at our tiny baby lying on the hospital bed, so helpless and vulnerable. I had no idea what lay ahead.
Days later we were flown from one end of the country to the other, arriving at Starship Children's Hospital in Auckland. Suddenly our life went from one of newborn normality to one of needles, nasogastric feeding tubes, surgery and life on a hospital ward. Elliott was diagnosed with Biliary Atresia, a very rare disease of the liver. At 7 weeks of age she had her first surgery. This was called a Kasai procedure. The surgeon connected her small intestine to her liver which provides a path that can allow bile to drain properly. It was our only hope.
The next 5 months consisted of regular trips and admissions to Starship, Christchurch and Invercargill hospitals as Elliott battled this cruel disease. Elliott was very sick at times. She fought many illnesses including cholangitis, norovirus, portal hypertension, adenovirus, ascites and varices in her esophagus. She had countless procedures such as ultrasounds, endoscopies, albumin infusions and blood transfusions, this medical world became our new normal. We started a Facebook page for family and friends to follow, dedicated to documenting Elliott's journey. It grew into something bigger where we could help raise awareness for organ donation and help others who were faced with the same diagnosis.
On February 13th 2013, Elliott was transferred from Christchurch Hospital to Southland Hospital. Unfortunately this time Elliott became really unwell, developing ascites which is a buildup of fluid in the tummy. Doctors told us this meant her liver was starting to fail her. Over the week her tummy grew like a balloon, until the paediatrician made the decision. Elliott was airlifted to Starship Hospital. The Starship Air Ambulance flew down with doctors and nurses on board and took her to Auckland. She was 7 months old and was listed for transplant a short time later.
One of the hardest parts about the journey was that we were so far away from home. We had a mortgage to pay and jobs to take leave from. When Elliott was listed we had to make a decision about where we would live, as our home in Gore was too far away if a liver became available for donation. The decision was made for Fraser to stay in Auckland with Elliott and I returned home to work. An emergency plan was set up so that if a liver was matched they could get me on the next flight out of Invercargill, Dunedin or Queenstown. We were prepared that the wait would be a long one. We had made close friendships with other families on the ward awaiting transplant. Some were battling the same horrible disease and they had been waiting for months, some waited for over a year for the right liver to come up.
There were close family and friends who wanted to be a live donor for Elliott and her Godmother Cherie had just passed the first round of testing when our world changed dramatically. Elliott's miracle came 20 days after being listed for transplant. We were blessed to have such a short wait and it's something we have never taken for granted. At 8 months of age she went into the longest operation of her life. A deceased donor had been found and was a match for her. The piece of liver was 4 times the size that she needed but they transplanted it into her tiny little body anyway, as it would eventually shrink to fit her body size. What a clever organ! In the days following her transplant, she went in for two more major surgeries but a month later we were discharged to a transplant apartment at Ronald McDonald House. We had to live there for 3 months to keep Elliott in a sterile environment, to learn about how to administer the 9 different medications she was on and to attend daily appointments under the close eye of the Starship team.
The hardest part about this whole journey, hands down, was grieving and sharing the loss of 3 little ones who lost their battles far too early in life. We were not prepared to watch people we'd become so close to on the ward, lose their precious fighters. Attending their funerals was not something we could have foreseen when we first began this journey with Elliott. We knew that we could lose our own baby but we didn't know that we would be witness to the pain of others losing theirs. To date, it is what keeps us grateful for the gift of life, those three angels are always in our thoughts and we try to honour their lives by making sure that Elliott lives her life to the full.
It has now been 5 years since Elliott's liver transplant and if you met her on the street there is no way you would be able to tell how rough her start to life was. She leads a relatively normal life, very much like other kids apart from the anti rejection drugs she takes, how easily she picks bugs up and the regular check ups and bloods she has, to monitor her new liver.
When people talk about how hard it must've been when she was little, I do acknowledge that it was extremely tough but it has made me a better person and mother. I truly treasure each day with Elliott and believe I wouldn't to the same extent, had we not been on this journey. Experiencing the outpouring of love and support from people we knew, people we didn't, local businesses, schools and strangers throughout New Zealand has changed the way we look at life. It was completely overwhelming and still is, to have such an amazing amount of support when we really needed it. There were countless fundraisers, a masquerade ball, a cookbook collated and made by our incredible antenatal group, a quiz night, auctions, raffles, tee-shirts, letters, cards, posters, handmade gifts, toys, clothes, vouchers, a radio ad...the list goes on. I will never take for granted how people helped us back then and now I try my best to give back where I can. I volunteer at Ronald McDonald House in Southland Hospital and regularly donate blood. Over the years we have helped Starship with their fundraising initiatives by allowing Elliott's image and story to be shared on posters, banners, websites, business cards, books and at events. Elliott and I helped at the Organ Donation NZ thanksgiving service last year, we've given gifts to children in hospital over Christmas, given our time for research and to medicine students trying to get an insight into what it's like for families to live with a child who has a serious illness.
There are amazing organisations and individuals out there trying to raise awareness of organ donation and who support those on the transplant journey. IDFNZ the Kids foundation have been a massive help to our family and once a year we enjoy staying at the respite home in Bannockburn. We are so thankful to these organisations and know that they add value to our lives.
Elliott is a vibrant young 6 year old girl who is loved by many and she would not be here today if it wasn't for the selfless decision of a family we have never met. In their darkest hours they made the choice that helped others get a second chance at life and we are eternally grateful that Elliott was one of them. Elliott has been given a gift, the chance to enjoy a rich and full life. This is an opportunity denied to many due to a lack of organ donors in our country and I sincerely hope that by sharing our story, more people in New Zealand will consider becoming a donor. Imagine being able to give the gift of life to others in your final moments on earth. If you have never talked to your loved ones about donation, I encourage you to have the conversation today.
Update:
In a few months it will be nine years since Elliott's transplant. She will be in Year 5 at school this year. Elliott enjoys playing miniball and netball and loves to skate, dance and sing. She loves to be in the water, whether it be at the lake, the beach or the pool. Elliott has a number of pets and has a dream of one day being a veterinarian. she watches a lot of shows about vet clinics and enjoys helping or playing with animals. Elliott's liver continues to serve her well and her health journey has been relatively smooth. We remain ever grateful for her wonderful gift and do our best to ensure she understands her journey and cherishes the second chance at life that she was given al those years ago.
Rebekah Prattley 2022