My Story:
Benjamin
From Auckland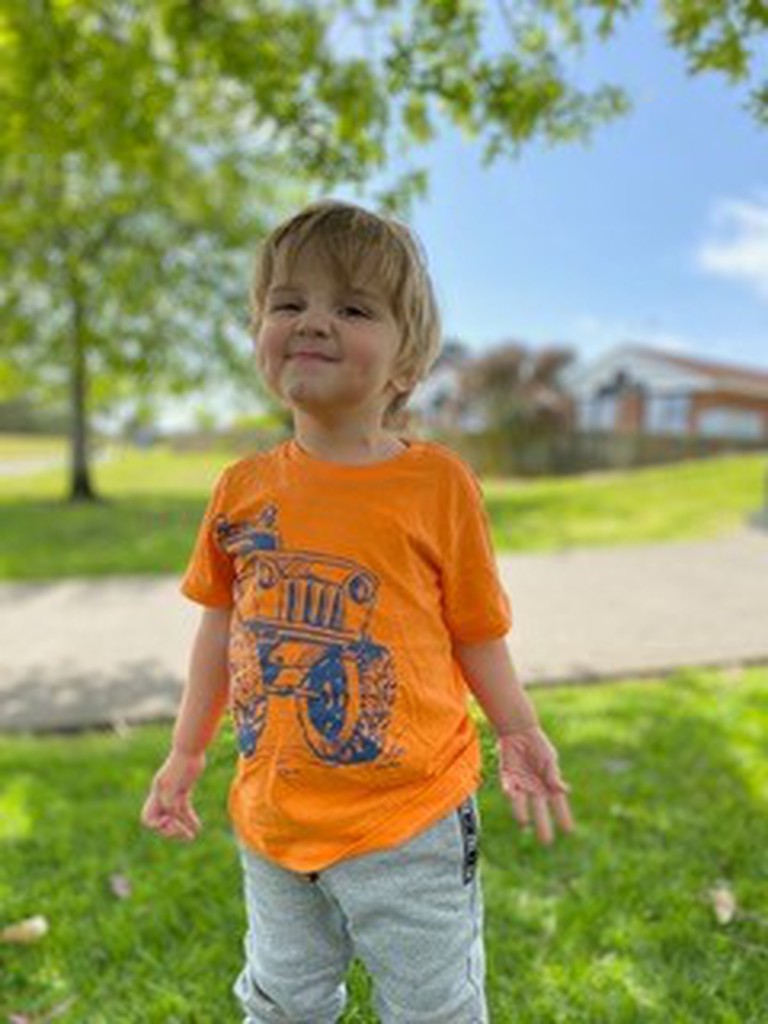 Benji's Journey with Alpha1 Antitrypsin deficiency
On 18th August 2017, Benji was born weighing just over 3kg, full-term and seemingly healthy. When he was two weeks old, I noticed that his stools were very pale almost white. Our People I rang my midwife who advised us to see our GP as soon as possible. We had our appointment later that morning and our GP ordered urgent blood tests.
I recall her writing a cell phone number on the blood form, which seemed strange. I had no idea what was about to happen. That evening, the cell phone number appeared on my phone and time froze. It was my GP, and we were instructed to immediately pack up our things and take Benji straight to Starship as something was seriously wrong with the blood results and that they were expecting us.
We arrived at the Emergency Department, and everything happened very fast. He needed an IV-line, urgent ultrasound, x-ray and blood tests. Everything was urgent. We were transferred up to Ward 26B, Room 16. This would be the start of our first-ever admission in our (now) home away from home. Several different conditions were being mentioned, all with one common factor, Liver disease. There was something seriously wrong with his liver.
Over the coming days, many of the common conditions were ruled out. We were allowed to go home and wait for the genetic results to come back, with a handful of medications and a special formula. Our journey was just beginning. A week or so later, we were called back to attend an outpatient clinic in Day Stay where we were told he had something called Alpha1 Antitrypsin deficiency.
Alpha1 Antitrypsin deficiency is an inherited genetic condition that is passed down from both parents. Alpha 1 Antitrypsin is a protein that is mainly produced in the liver. It protects your lungs and your liver from damage and inflammation.
With alpha1, this protein is abnormal and gets stuck within the liver. This results in a lower level of protection and in some cases, damage to your liver as it is unable to process the abnormally shaped Alpha1 protein. This is what was happening to Benji. We were told that Benji's liver function tests would fluctuate over time, but most likely stabilise and he would be unlikely to experience significant issues as a child or young adult. Around 5-10% of children with Alpha1 develop chronic liver disease and an even smaller percentage require transplantation. It was essential that we reduced his exposure to lung irritants but otherwise, we were to go about living our life as new parents with a new-born baby.
As the weeks went on, Benji's liver function tests were getting worse, he was becoming increasingly jaundiced, itchy and had failure to thrive. The little sparkle in his eyes began to fade, and he was looking sicker each day. Despite this, he continued to light up the room with his little smile which was such a blessing.
At three months old he stopped feeding orally completely. We were already struggling with him gaining weight, so we were introduced to the NG tube and our tube feeding journey began. As we trialled different formulas, concentrations and medications we could not get Benji to gain weight or to stabilise his blood tests. This is when talk of liver transplantation began. The decision was made on December 28th, 2017, he would need to be assessed and listed for transplant. This assessment was set to happen in January 2018.
In January 2018 the liver transplant assessment week was all booked. We had read through the documents and immersed ourselves in all there was to know about liver disease and the transplant process. We had our questions ready, and we were all set to take on this next challenge.
In the two weeks leading up to transplant assessment, Benji's blood tests had miraculously improved. The jaundice was fading, his feeding improved, and he was looking better each day. The Friday before our first day of assessment the team decided to postpone listing Benji for transplant as he was improving so much. He did have cirrhosis and liver disease, but he was stable. We could once again go back to leading our normal life, with a happy, healthy, symptom-free infant… or so we thought.
In February 2018 Benji developed chronic intestinal and absorption issues. For a long time, it was thought to be unrelated to his Liver disease, although there was no alternative cause found as to why he was having so many issues. After many back and forth trips to ED and the ward, managing hydration, digestion and weight issues, we discovered Benji was particularly susceptible to hypoglycaemia. During one particularly bad admission, the team decided to put Benji on TPN (Total Parenteral Nutrition) - a way of feeding him through his veins to help him systemically improve and hopefully get better.
Throughout 2018 Benji had many periods of digestion issues, which resulted in countless admissions to Starship requiring either IV fluids or TPN. We were aware of his tendency to have low blood sugars, but we were able to keep an eye on them on the ward and at home with our blood sugar monitor. For the most part, he was okay. We celebrated all the normal infant milestones, watched him grow and develop, battle the NG tube - which he refused to keep in for longer than two days at a time. As the year went on it seemed as though his hypoglycaemia was getting worse. We were noticing symptomatic hypoglycaemia episodes at home every few weeks. He was referred to the Endocrine and Metabolic teams at Starship for further investigations where nothing out of the ordinary was found, other than the odd slight anomaly that could be linked with the liver. We were told chances are, it would come right on its own and he would grow out of it…. You can probably guess where this is going.
Fast forward to April 2019. Benji's hypoglycaemia had become uncontrollable. There were countless ambulance rides, ED visits and hospital admissions and confusion. It was an extremely traumatising time. As time went on it was becoming clear that his liver may be playing a part in his issues. The teams of doctors were trying to find a reason for his severe hypoglycaemia. Some were saying it had to be his liver, others were saying it couldn't be. His liver function was declining but not at the rate to match his symptoms. While clinically he was stable, our days were consumed with checking his glucose levels, getting him to eat, NG feeding and tube replacements, home care visits and countless phone calls to the wonderful liver nurse specialists.
In May 2019 Benji was scheduled to have a Mickey Button Placed (Surgical feeding tube) placed, which would dramatically improve our quality of life. On the day of discharge from surgery, his tummy issues flared up again. After a few Horus at home, we were straight back for an admission. This was the beginning of the sharp decline in Benji's health. His tummy no longer tolerated any oral or tube input, which triggered severe hypoglycaemic episodes. As the weeks went on Benji was unable to go 30 minutes between some form of nutrition. This eventually stopped working and the decision was made for him to return to 24/7 TPN to keep him stable. His liver function tests were still slowly declining, and after acknowledgment that this wasn't sustainable, the decision was made to list him for transplant.
I can remember feeling so overwhelmed when the transplant was discussed again. Not knowing if it would work or stop his blood sugar issues was so terrifying. We had been living in Starship for months on end, and we had no option but to have faith that everything would be okay. My husband Matt was tested to be a live donor, we knew I wasn't a blood match. After a few weeks, it was confirmed that he was a match and that a transplant date had been set for the 24th of September 2019. Our family and friends all gathered as we faced the biggest challenge yet.
Matt went into theatre at around 7.30 am, followed by Benji a few hours later. After an anxious wait, we got the call to say everything had gone smoothly, it was a perfect match and that Benji had no hypoglycaemia. I got to see Matt in the ICU at about 3 pm, and Benji in PICU at 6 pm. Seeing Benji for the first-time post-transplant surprisingly wasn't as overwhelming as I thought it would be. Sure, there were lots of wires, tubes, machines, and medication, plus the giant incision across his belly, but his LFTs were the best they ever had been, and for the first time in what felt like forever, he was managing his blood sugars on his own. His little body, and a new liver from his daddy, was finally working as it should.
Nothing could have prepared me for seeing Matt in the ICU. I was used to seeing Benji so poorly, but to be honest, seeing my husband lying in an intensive care bed, was next level. Miraculously Benji bounced back much faster than anyone anticipated. He was sitting up and wanting to get out of bed within a few days and was jumping around and sliding off the bed in the first week.
Benj broke the record for fastest discharge, as we were able to go home 9 days post-op. Our lives were once again turned upside down. But this time for the better. New routines, new medication… a new life. He had an episode of rejection shortly after, but he seemed to be thriving!
We only then realised how sick he was and had no idea how good life could be. It is something we will never take for granted. We thought it would be smooth sailing from here on out… little did we know we had a new battle to face.
2020, the start of a new year. We enjoyed partaking in summer activities and spending time together as a family making wonderful new memories, not in the hospital. Benji became unwell in March - fevers, rashes, lethargy, diarrhoea and dehydration. It was thought he had a viral illness, and it would come right. Benji's EBV level had been creeping up posttransplant. A virus that in very rare cases can have a severe impact on the life of a paediatric liver transplant patient. Benji's EBV levels were being monitored, but his clinical presentation and illness and EBV level were thought to be unrelated. After a few weeks in Starship, he improved and we were sent home, back to living our lives and celebrating life.
In April, Benji became unwell again with the same symptoms as previous admissions. Again, it was thought to be viral, but this time mimicking a meningitis type illness which called for a variety of scary tests to check what was going on. The tests were all negative, he improved, and we were sent home - but his EBV load continued to increase. Fast forward to June, The third wave of severe illness. This time much worse than the others. Benji needed oxygen, TPN, Tube feeding, a Hickman line, IV antibiotics and fluids, the works.
The decision was made to do another range of invasive tests to look for PTLD (Post-Transplant Lymphoproliferative Disease). It was then discovered that he did in fact have PTLD caused by the Epstein Barr Virus infection he had been struggling with for most of the year. Benji's medication and immunosuppression were altered, and he had 5 rounds of treatment for the PTLD.
Fast forward to 2022, Benji is absolutely thriving. He attends kindy 4 days a week, is an absolute tornado and is full of life and laughter. We look forward to him going to Primary School later in the year and watching with pride as he grows and develops. We are down to outpatient clinic every three months, and occasional blood draws. I could never picture life being like this for him when he was sick. I wish I could go back in time and show a snapshot of him in full health. It is just so amazing.
In April 2021 we welcomed Benji's baby brother Harrison to the world. Harrison has brought a whole new rollercoaster to the table, a story for another time but we just love being together as a family.
Life continues to throw curveballs our way, but I would not change it for the world. We have met some amazing friends and families along the way. So many of whom have carried us through our darkest times.
Thank you everyone for your support and love.
Ash, Matt, Benji and Harrison