My Story:
Armani
From Christchurch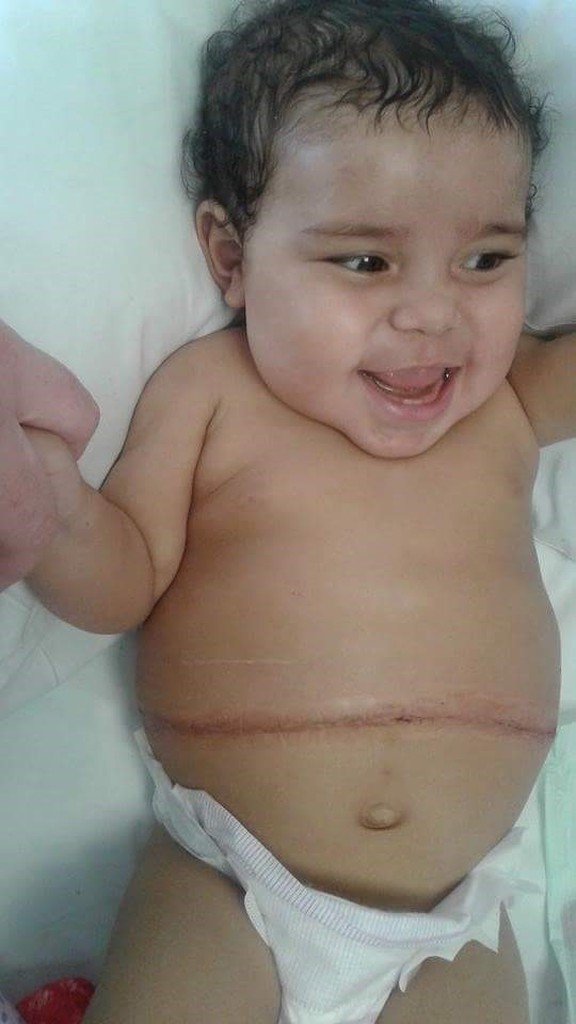 Today Armani is a smiley, happy boy of ten months. Born in Christchurch he is the youngest of four children and loves to chat and laugh, and has a good sense of humour. He also loves to eat according to his mum, Nicole.
However, just a few short months ago, Armani was a completely different little boy.
After a normal pregnancy and birth all seemed well until Armani's traumatic journey began when he was only six weeks old. He had jaundice, as a lot of babies do when they are born. However, when it didn't go away, experienced mum Nicole knew something wasn't right and talked to her Plunket nurse about what could be wrong with her son. This would be instrumental in helping to diagnose Armani. If Nicole had ignored the jaundice things could have been very different for Armani and his family. The nurse suggested that she visit her GP to make sure everything was alright. By then the jaundice had spread to the whites of Armani's eyes and his family was seriously worried about his health. At the doctor, he was examined and then sent straight to Christchurch hospital. There they performed tests, bloodwork and three biopsies before he was transferred to Starship. His blood results showed that his liver wasn't functioning correctly and his condition was critical.
Starship doctors diagnosed him with Biliary Atresia at five months of age. Normally, a Kasai procedure is done to re-establish the flow of bile from the liver into the intestine so that it is not building up in the organ. However, because of Armani's late diagnosis (he was already five months old by this time), there was too much scarring on his liver. Therefore, his name was put down on the liver transplant list. Returning home to Christchurch was difficult for Nicole as she had no idea how long Armani would wait for a suitable donor organ. Leading up to Christmas this was a very sombre holiday for the family with seemingly endless days in Christchurch hospital and weekly transfusions.
Right away Nicole's mother put up her hand to be tested as a live donor. There was good news ahead, however, when his grandmother was cleared as a donor match, she and Armani returned to Auckland and underwent surgery on the 31st of January. Everything went well and, amazingly, Armani was out of Intensive Care in one day. His grandmother also made a good recovery.
His journey wasn't completely smooth, however. After the transplant, he suffered a blood clot and surgeons had to operate once again to fix the problem. He came through that operation well and has not had another complication or set back since. Armani is currently spending three months recuperating at Starship before returning to his brother and sisters in Christchurch.
The next steps for Armani now are to stay healthy and continue to gain weight. His mum says that he may even be sent home early if he continues to recover and improve as quickly as he has been in the last few weeks. He has the visit of his siblings to look forward to as well. When he returns home, he will continue to have bloodwork done and medication morning and night but he is well on the way to recovering completely and enjoying a full life.
Needing a life-saving liver transplant is every mother's worst nightmare, made even more complicated by having to uproot to Auckland away from her normal family network, Nicole says that she has had the most amazing support. Her mother has given her time and was the first to offer to become a donor for Armani. Nicole says that although she is still in pain, she has been a wonderful encouragement throughout and even through a tremendous amount of pain she has stayed positive and strong. Her gift has been the seed for a thousand others in Armani's life including his siblings having a healthy brother. The family would also like to thank KIDS Foundation for everything they have done. The financial support, encouragements and support visits have also been incredible with the Foundation also flying Nicole's three other children up from Christchurch to stay with their mum and brother until they are released from Starship. Nicole would like to thank all the staff at Starship for their help and everything they have done for Armani. She would also like to thank God for all his provisions during this long journey and is thankful that Armani is doing so well now.
Update
Armani is now 4 years old and thriving. He is keeping in good health and enjoying an active life.
Nicole, 2021