The Tolu Family Bubble
Mon May 18th 2020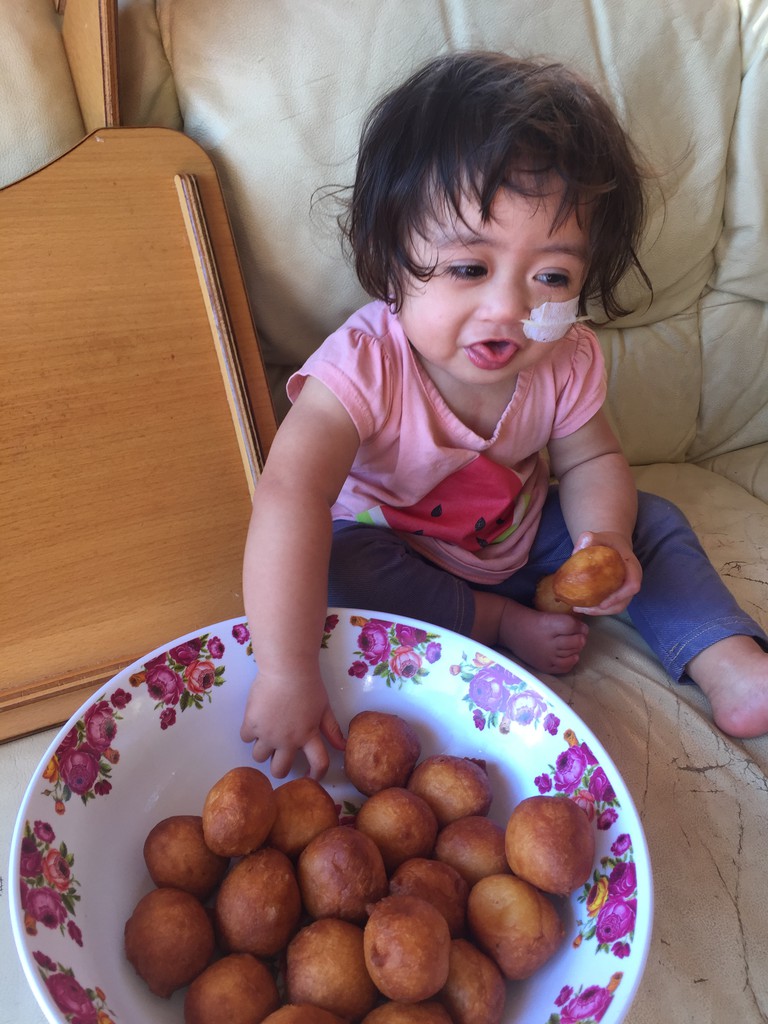 17 month old Zani lives with her parents Malia and Sam and her five older brother and sisters Siolaa,Ailini,Vaha,Dean and Moala.
Born with DiGeorge syndrome, young Zani has undergone both heart surgery and a Bone marrow transplant , spent many months in hospital,
and is on regular immunoglobulin therapy. This tightly knit family somehow cope with frequent medical emergencies and uncertainty that impinge on normal family life.
Despite the reasons behind it, the Tolu family have enjoyed their lock down. They've found new ways to come together and strengthen their familial ties.

Although the family were separated due to mum Malia and baby Zani being in hospital just before lock down, they were lucky enough to return home the day before Level 4 came into effect.
They had a house-full, with eight children and two adults under one roof for over 8 weeks . This led to some creative thinking to help the days move smoothly.
After a hectic start to the lock down, Malia made sure to put into place a routine for her family. Like many other IDFNZ families, the older children were already isolating at home ahead of level 4, due to the Covid-19 risk to vulnerable Zani. Establishing a daily routine was therefore a little easier to organise .
Everyone had times to work with breaks in between to do activities together. This meant that everyone was able to help each other and only went to mum when the schoolwork was too hard. Malia was then able to care for little Zani.
Baking became a special treat and break throughout the day as well as a reward for a job well done on schoolwork. Their creations even included homemade takeaways – the favourite of which was a homemade 'Big Mac'. Chores also had to be done and any extra baking was delivered to extended family who needed it.
The Tolu family's new perspective on life and discovering the things they could make at home was a high point Malia really enjoyed.

Coming together as a family and becoming closer through their special baking times was also very precious. Everyone was hands on together even
baking birthday cakes for the three birthdays celebrated during Level 4. Check out the photos!
Malia found that for her personally, a challenge of lock down was that everyone had to adjust to being home and doing schoolwork at home, which can be hard with 8 kids in the house !
Another stress was trying to keep everyone safe when groceries and other necessities had to be brought into the house from the outside.
Keeping up with Zani's nurses was also new, as each consultation now had to be done via phone or a video call.
However, the good definitely outweighed the bad for the Tolu family. They grew closer as a family through this time and making everything as normal as possible at home helped a lot with that. Encouraging and helping each other with schoolwork was also important as well as breaking up the day with time to relax and bake together.
Zani is an IDFNZ patient member living in Auckland
Thank you to the Tolu family for sharing your bubble - life with us. We love the way you used the rhythm of family meals and cooking to bring the family together to counteract the chaos of the outside world.