Life In the Hospital Lane - Discharged Home
Wed July 19th 2023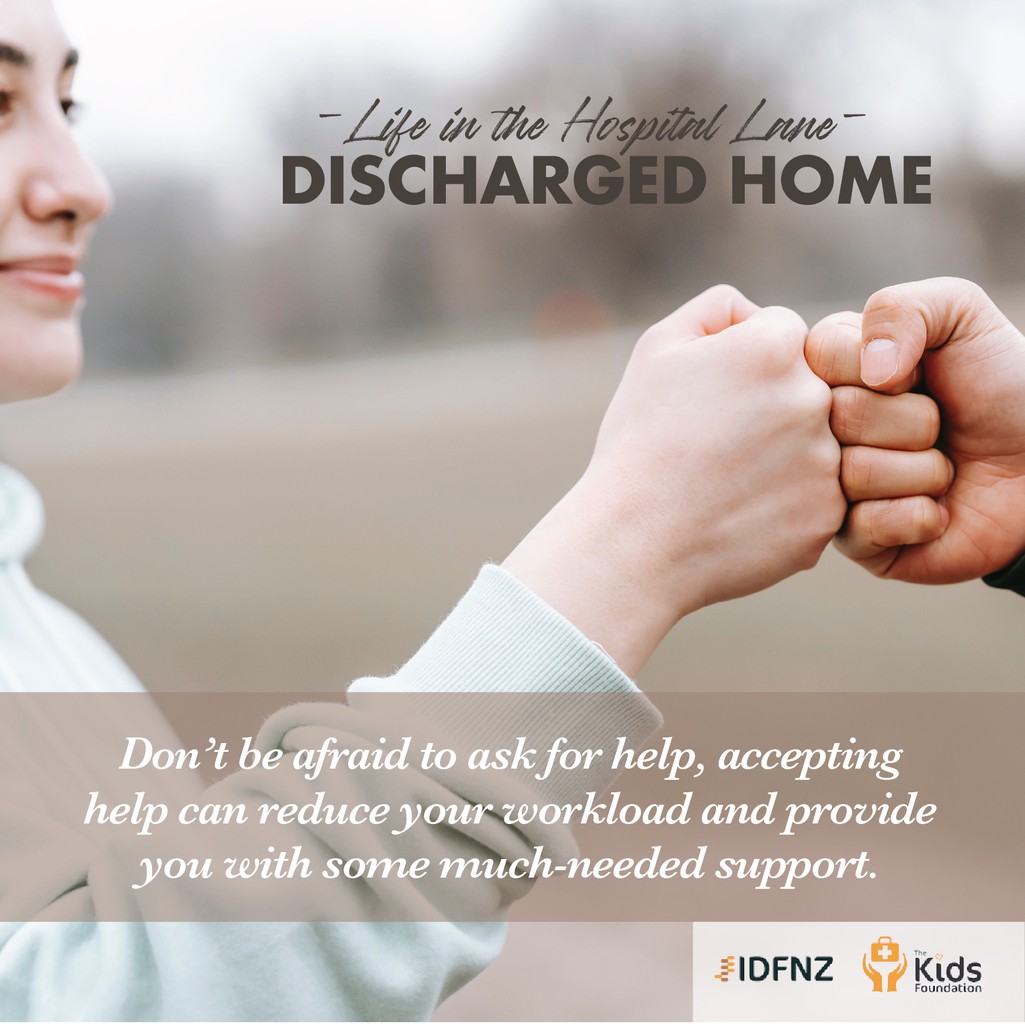 Making the transition after
hospital
There is truly no place like home. The comforts, the familiarity, the little quirks, and the family dynamics - we yearn for 'home' where we can breathe a sigh of relief and feel at rest. The love of home often grows stronger when we are absent, or not able to be at home. This is especially true after long hospital stays and periods of life where the hospital doors are frequented more than your front door! There is a strong pull to get 'home' but often the plan for what comes next is a bit shaky, and it can be a challenging experience making the transition from hospital to home.
You will feel a sense of relief that you are finally leaving the hospital and returning to the conveniences of your own home. However, you may also feel anxious and overwhelmed as you try to adjust to the new routine of managing health needs, outside of the hospital walls. Many studies have shown that the period after hospital discharge, or when moving from acute care to a less intensive level of care, is one of the most vulnerable times for the patient.
Life In the Hospital Lane To help ease the transition, it is important to be prepared and have a plan in place before leaving the hospital. This plan should include information on any medication you need to take, follow-up appointments with your healthcare provider, and any necessary medical equipment or supplies you may need at home. Sometimes medication needs are complex and involve different times, amounts, and doses. It is a good idea to get the medication plan in writing and have a quick read over it before leaving the hospital. This gives you the best chance to ask questions or get further clarification around anything unclear. Make sure you understand any potential side effects and how they can be managed so that these don't come as a surprise further down the track.
It's more difficult once you arrive home to get hold of doctors and staff to ask these types of questions. It's also helpful to plan where and when you will fill a prescription after discharge - whether it's on the way home, or if you can collect from a local pharmacy later once things are settled for the day. There will most likely be follow-up appointments in the coming weeks, it's a good idea to map these out in a diary or a calendar so that you can prepare, take the time off work, or arrange transport to and from. Attend all sessions (where possible) that your care plan includes and follow any at-home exercises and instructions. This will help to put you on the road to a full recovery.
Reach out for help from family and friends if it is difficult to manage other children, or school pick-ups when these appointments are scheduled. This is one way that your support 'network' can be a huge help with the adjustment of returning home. Your support 'network' is vital to help during the transition from hospital to home. This may include family members, friends, or a home health nurse or aide. Make sure they understand the illness or injury that you are dealing with. It can be overwhelming responding to offers of 'help' as they come thick and fast as soon as you set foot inside your home - so be ready to say thank you, and that you will be calling on them when you are settled, ready, and in need of assistance.
Family and friends genuinely care, and offering help is a way that they can feel useful and a part of the journey in recovery. Don't be afraid to ask for help, accepting help can help reduce your workload and provide you with some much-needed support. Take down numbers or contact details, and whilst you may not be in the position to arrange the weeks ahead, ask them "Is it ok if I call you when I need...." This acknowledges their willingness to assist and confirms that you have reliable people to call on in the weeks ahead when there are appointments, follow-up meetings, or when you need to pop to the supermarket for supplies!
Moving from the hospital to home for recovery can be a significant transition, and there are several things to consider regarding your home and modifications to suit the level of care needed. Ensure that your home is easily accessible, will you need a ramp for a wheelchair, or handrails for stability? Consider bedding and the location - whether it be a more central area or a quiet area. Think about comfort and functionality. Make sure the bathroom is safe and remove trip hazards or remedy slippery surfaces. Having a way to communicate within the home in case of an emergency should be thought through. Perhaps an alarm system, a wearable device or phone, or something simple like a small bell when help is needed. Ensure that all medications are accessible and stored properly. If there is a heavy schedule, consider setting up medication reminders to take care of that aspect and free up mental space for other things.
The key to making these adjustments is to ensure they are safe, comfortable and aid in the recovery process. The hours, days, and weeks ahead can become a bit of a blur due to tiredness and the adjustments in living. Yesterday morning, may seem like Wednesday last week, or was it a weekend? Keeping a simple journal, or a few notes helps with tracking your progress, and may identify any potential issues that require guidance from your doctor. Having any concerns, symptoms, or setbacks written down takes care of the remembering part - and leaves your mind and body free to get on with the healing. Your doctors and specialists will be grateful for the clear information as well, instead of vague recollections of symptoms on a random timeline.
Taking care of someone who has just been discharged from the hospital can be challenging, both physically and emotionally. It is essential to keep your own health in check and keep tabs on your own needs while also providing care for your loved one. Remember to take breaks throughout the day to rest, relax and recharge. This can help prevent burnout and reduce stress. Make sure to get enough sleep, lack of sleep can affect your physical and mental health and make it more challenging to care for others. Uninterrupted sleep at night may not be possible Try and compensate through the day with a short nap if there is time. You may be so busy with care that you forget to eat well - try and keep a balanced diet and stay hydrated. How you eat will have a huge impact on your energy levels and ability to cope - so though it's so easy to grab whatever is easy and appealing at the time - think long-term and you'll reap the benefits of giving your body the nutrition it needs. If it works with your schedule, and the patient you're caring for try and get a little exercise. Consider a short walk or other low-impact movements - it will help in recovery and boost your mood. The fresh air will do wonders for the mind and body!
You will have hobbies, interests, and projects that may initially be out of reach, but as recovery progresses and you start to think about activity again, give something you enjoy a go again; whether it be reading, listening to music, or crafting. This is another great mood-booster and reminds you of a life to be lived when the hospital is just a memory. With the relief and anticipation of settling in at home again, unexpected feelings and unmet expectations can raise their heads out of nowhere. Maintaining a realistic outlook after being discharged is essential for a successful recovery. Understand the plan ahead, and the care instructions provided by medical staff. Communicate, then communicate some more - whether it be with doctors, specialists, or friends and family - to make sure everyone is clear about the road ahead and has grasped what to expect and the adjustments needed. It's common for patients or their family members to expect a full return to their pre-hospital selves after hospital admission. However, this is sometimes not possible, and not maintaining realistic expectations about recovery can lead to disappointment and depression. Patients and their carers will need to make lifestyle changes. At the other end of the spectrum, many patients require extensive additional treatment, monitoring, or rehabilitation. Take it slowly, don't push yourself too hard too soon. Gradually increase your level of activity as the recovery process allows - recovery is often a marathon, not a sprint! Focus on the progress already made and try not to expect perfection.
The process may be slow at times, so celebrating small victories helps in realising all progress is good progress, no matter how slow it may seem. Set realistic goals and try not to get discouraged if there are setbacks. Remember that every road to recovery is different, and it is essential to maintain a positive outlook while setting realistic expectations for yourself. In all regards, getting from the hospital back to the comforts of home is a huge step forward in and of itself. Congratulations on the amount of recovery already achieved. Remember that transitioning back home after a hospital stay can be challenging, but with proper preparation and support, it can be a smooth experience. Be mindful to take things one day at a time and reach out for help when you need it.
You have come a long way, and you have the tools, expertise, and support around you to focus on a recovery back to good health!