Fair for Rare ; Make your Voice count
Fri June 19th 2020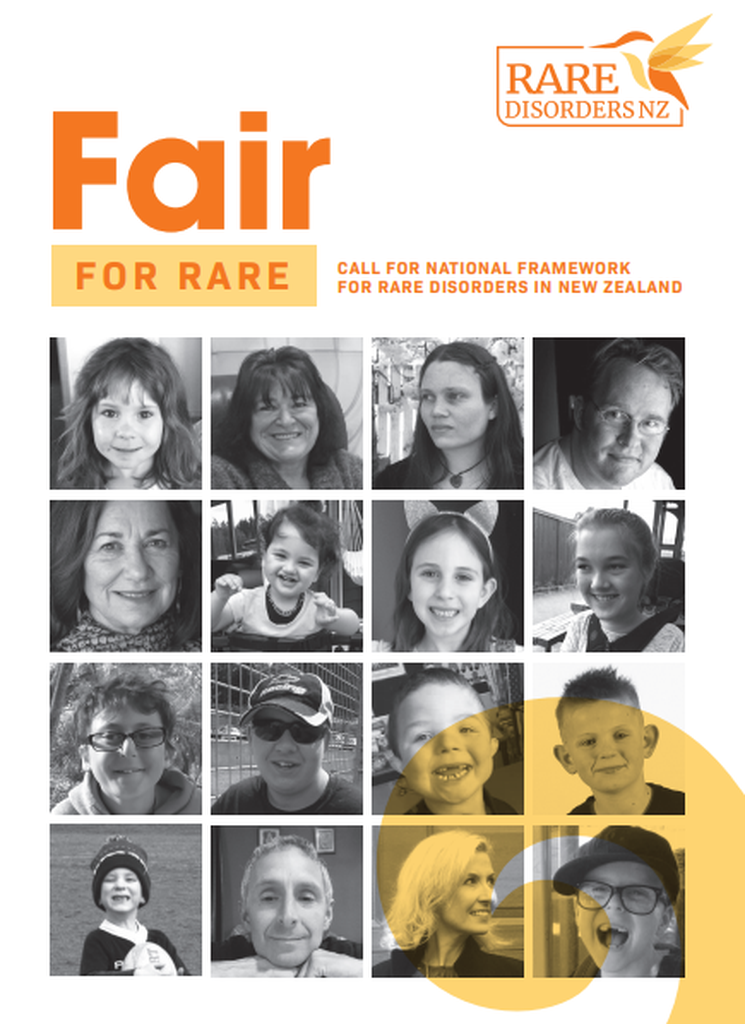 "No country can claim to have achieved universal healthcare if it has not adequately and equitably met the needs of those with rare diseases." Helen Clark, United Nations

Fair for Rare

is a call for the New Zealand government to take rare diseases seriously to ensure equitable health outcomes for everyone. Rare is part of our communities and deserves a fair go.

New Zealand has no established health system policy or programme to specifically address rare disorders as a category. RDNZ is leading the call for the development of a New Zealand National Rare Disorder Framework for all people living with a rare disorder.
Seven strategic priorities have been identified:
DIAGNOSIS - Early and accurate diagnosis of rare disease to improve health outcomes for patients and long-term benefits to the New Zealand economy.
ACCESS TO MEDICINES AND TREATMENT - Equitable access with an appropriate assessment pathway and criteria for rare disorders which takes into consideration their small patient populations, progressive disease and limited data.
COORDINATED CARE - A coordinated 'harmonised' approach to care is essential for integrated and cohesive healthcare, this would enable inter-disciplinary services and effective collaboration between all health professionals, community service providers, Ministry of Social Development and Ministry of Health.
ACCESS TO SERVICES - Access based on need not on a set condition or disease type. Simplified process to enable access to health and disability services that is person centred and holistic so that no-one is left behind because they don't tick a box.
RESEARCH - A national coordinated programme of research on rare diseases that includes active participation by patients, carers and patient advocacy groups. Improved government commitment and associated funding for rare disease research.
NATIONAL RARE DISEASE REGISTRY - Improved data to ensure accurate awareness of the demographics of rare disorders and to allow responsive access to each other and to clinical trials that may be available.
WORKFORCE DEVELOPMENT - Clear planning for sustainable training to ensure workforce are ready and available – including genetic counsellors, genetic biostatistician, trained specialists, allied health professionals and lab workers.

This is good work which will benefit all IDFNZ members. We want to follow the lead of countries like Australia in establishing a National Rare disorders Framework and working to ensure equitable health outcomes for everyone.
Call to Action
1. Please sign the RDNZ petition
A petition has been launched to properly gain the attention of our political leaders and policy makers:
https://raredisorders.org.nz/fair-for-rare-nz/parliamentary-petition/

Please take a moment to sign the petition and pass on details to friends and family who can help to amplify this call for Fairness.

2. Update your MP on the Fair for Rare Campaign
The general election is fast approaching, so this is the perfect time for people to meet with their MP to share their story and explain why the government must commit to the development of a National Rare Disorder Framework. It's time for rare disorders to be taken seriously. MPs are OUR local representatives, and are obliged to meet with their constituents and listen to the issues that are most important to them.
RDNZ have made this easy with campaign letters and resources you can access, and links to contact details for your local MP. ://raredisorders.org.nz/fair-for-rare-nz/campaign-resources/
If you need help please contact us , and remember to copy us on your correspondence at info@idfnz.org.nz .