My Story:
Lara and the Sutherlands Family Holiday on Waiheke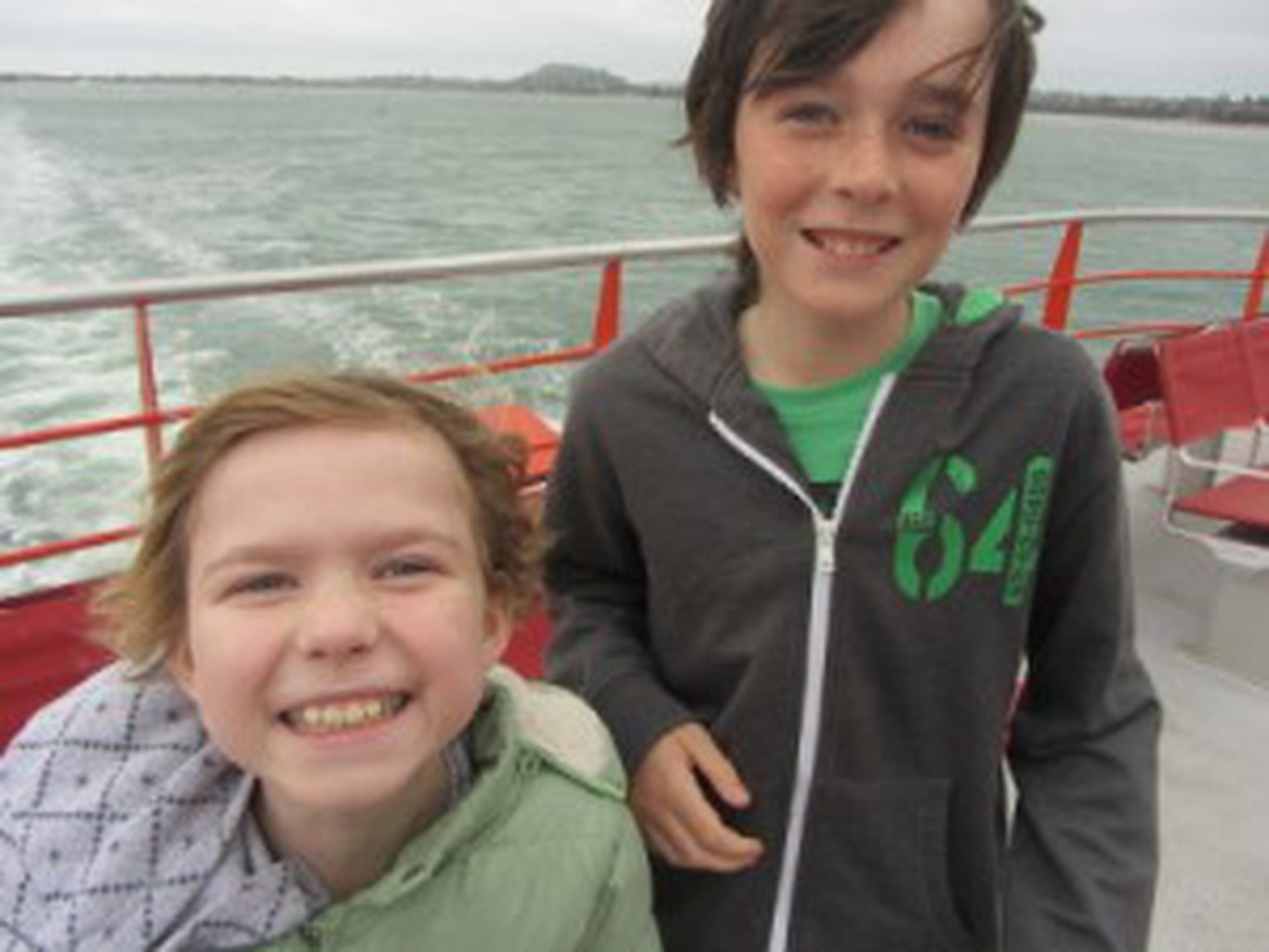 ~"Our Wild Waiheke Week" by the Sutherland's!"~
When Janet from the Kids Foundation phoned and asked if our family would like a few days on Waiheke we jumped at the chance. This year has turned into a tumultuous year for our family when. Lara fell seriously ill again after a few good years of health. As a baby Lara was diagnosed with biliary atresia, a liver disease, and she underwent a liver transplant at 7 months old. Her health was very fragile for the first 3 years and she spent most ofthis time in hospital undergoing procedures and operations to stabilize her health. Lara's health will always be a balancing act but we managed a pretty normal life for the last couple of years until her bile ducts blocked this year and she had to have major surgery to try and repair them.
As the week arrived of the holiday, we were still in hospital and wondered if we would be ok to go. But we were discharged Thursday and managed to escape to Waiheke on Tuesday! The weather forecast was not good – stormy weather ahead but since the ferry was still going we thought we would be up for the adventure.
We took the car ferry from Half Moon Bay and the kids loved the ride over, even though the seas were getting rougher we didn't notice in this heavy boat. On arrival at our holiday home we were met by Karyn, the holiday helpers representative. Wow, she was such a lovely lady who welcomed us, showed us around the home and gave us an itinerary for our stay. The home was lovely, very cosy with amazing views over Onetangi Beach, it was fully stocked with food for our stay and Karyn had brought over some games and dvds in case we were stuck inside with the oncoming weather.
Well the storm sure hit with a force and the power went out our first night. Luckily we had a gorgeous wood fire in the home and we were warm and cosy. I think though that the weather proved to be a bonus, it made our wee family stay inside the home, playing games, reconnecting instead of running around sightseeing. It was just what we needed.
While on the island we were treated to a family lunch out at 4th staff were just lovely and after enjoying a delicious lunch they kindly sent us home with takeaway coffee and cake for afternoon tea! On Thursday evening Hamish and I were treated to a dinner at the Oyster Inn in Oneroa. We were told it was amazing and it sure was! We were made to feel so welcome and the food was beyond divine! Hamish and I haven't actually had a date night in years and we love food so it was such a treat. Meanwhile our children were being taken care of by a babysitter, she was a lovely lady who must have understood how hard it was to leave my sick child as she sent me a text to let me know everything was going great at home!
Our last day, we had to drop Hamish at the ferry early as he needed to go back to work. The day was sunny though so we finally made it down to the beach for a play on the sand! Waiheke Cinema had given us tickets to see a movie so I took the kids to How to Train your Dragon 2. The cinema at Waiheke is like no other – a room full of cosy couches and a great place to see a movie. We left Waiheke feeling like we could finally breathe, feeling relaxed and like we had become a family again after so much time apart. It came at the perfect time for us and has made us feel better able to cope with whatever comes along. We are incredibly grateful to the Holiday Helpers Network for this opportunity to have a holiday together and to not have to worry about how we were going to pay for it – that in itself is another gift! Everyone we met on Waiheke who was involved in our visit was just so kind and giving.
Thanks from the Sutherlands!"
~See the link below for more information about Waiheke Holiday Helpers Network!~
http://www.holidayhelpers.co.nz/holiday-stories/the-sutherland-family/